The Betapharma organization represents a diverse talented team of dedicated professionals that have extensive backgrounds in medicinal chemistry, process chemistry and academia.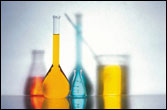 We are well positioned to ramp up quickly for projects and a capable CRO / CMO provider that can support your company with a broad portfolio of laboratory and research manufacturing services ranging from discovery chemistry to high quality manufacturing of API's for R & D use.
We specialize in a full spectrum of pharmaceutical research services such as:
Custom synthesis of various scaffolds building blocks
Reference compounds and custom reagent development
Contract research and manufacture services
Chemical API services
Asian business consulting and partnering
         We routinely carry out multi-step sequences to prepare gram to kilogram quantities. Typical procedures include:                  
Catalytic Hydrogenation
Ozonolysis
Protective-Deprotection
Debenzylation
Suzuki Couplings
Low-temperature Reactions
Hydride Reductions
Oxidations
Our customers range from small biotech firms to leading pharmaceutical corporations. We can work with your process, or develop a new process to simplify and improve difficult and expensive synthetic routes. FTE service is also available.